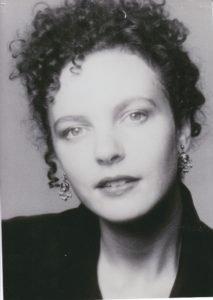 Hilary Bell writes for stage, radio, screen and music theatre. Plays include Wolf Lullaby (Atlantic, Steppenwolf, Griffin Theatre),Fortune, The Falls (Griffin), The Anatomy Lesson of Doctor Ruysch (Vitalstatistix; The University of the South in Tennessee), Shot While Dancing (shortlisted for the Susan Smith Blackburn Award), Memmie Le Blanc (Vitalstatistix, Deckchair), Open-Cut (WAAPA),The Mysteries: Genesis (Sydney Theatre Company) with Lally Katz and Angela's Kitchen (Griffin) with Paul Capsis and Julian Meyrick. She has written libretti for musicals (The Wedding Song, comp. Douglas Stephen Rae, dir. Jim Sharman), song cycles (Talk Show, comp. Elena Katz-Chernin, for the Sydney Gay and Lesbian Choir), opera (Mrs. Satan, comp. Victoria Bond, New York City Opera showcase) and for Phillip Johnston's score to Murnau's silent film Faust, premiered at the New York Film Festival and performed internationally.
Most recent works include a musical, Do Good And You Will Be Happy, with Phillip Johnston, The Pearl King of Broome for Black Swan State Theatre Company, The Splinter for Sydney Theatre Company and Victim Sidekick Boyfriend Me for the National Theatre's Connections Program in London.
Hilary has been resident at the Eugene O'Neill Playwrights' Conference in the US, the Russian Playwrights' Conference, and the Australian National Playwrights' Conference. She is a member of playwrights' company 7-On, and a recipient of the Philip Parsons Young Playwrights' Award, Jill Blewitt Playwrights' Award, Bug'n'Bub Award, Aurealis Award for Fiction, the Eric Kocher Playwrights' Award, the 2007 Inscription Award and an AWGIE for Music Theatre. She is a graduate of the Juilliard Playwrights' Studio, NIDA, and the Australian Film, Television and Radio School. She was the 2003-04 Tennessee Williams Fellow in Creative Writing at the University of the South in Tennessee. She is a director on the Griffin Board, part of State of Play's artistic directorate, and on the artistic advisory panel for the Production Company, New York. Hilary also works as a mentor and dramaturge, and as a playwriting teacher.